Product / Services
---
Maintenance, service and repair:
Automatic Pool safety covers require routine inspection to insure carefree operation and avoid costly repairs. We offer service on COVERPOOLS, Automatic Pool Covers, AQUAMATIC and POOL COVER SPECIALIST. Including replacing broken ropes and motors.
We also offer these services listed below:
COMPREHENSIVE SYSTEM TUNE-UP: $215.*

Adjust cover operation, Flush dirt from the tracks, tighten all loose screws and fasteners, Lubricate all pulleys and fittings and provide a written cover

inspection report.

DELUXE COVER CLEANING: $385.*

Clean Pool Cover with specially formulated UVL Cleaner and Protectant, Clean leaves and debris from the cover pump and housing.

TUNE-UP AND CLEANING COMBINATION: $525.*

Comprehensive System Tune-Up and Cover Cleaning.
*Additional travel charges may apply depending on your zone location.
---
AUTOMATIC POOL COVER REPLACEMENT
Replacement cover cost is based on the square footage of the cover. We also include our BASIC SYSTEM TUNE-UP as part of our AUTOMATIC SAFETY COVER REPLACEMENT.
We use incredibly strong and durable fabric from COVERSTAR.  Advanced vinyl formulation and superior fabrication methods are used in in Coverstar fabric. Only cover fabric which has been tested and certified by American Standard for Testing and Material (ASTM) is used for Coverstar fabrics.
Where other manufacturers sew webbing material wrapped around rope to the cover. With this method the webbing often fails before the cover.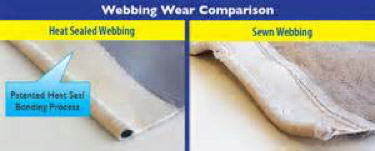 COVERSTAR uses an exclusive patented process to heat seal webbing around a polymer bead and weld it to the cover in one step. This process produces a substantially stronger cover, longer webbing life and improved cover operation.
---
POOL SAFETY COVERS MESH AND SOLID
AUTOMATIC POOL COVERS COMPLETE also sells and installs SWIMMING POOL SAFETY COVERS BY Coverstar.

---
POOL SAFETY COVERS MESH AND SOLID
Coverstar Solid and Mesh Safety Covers are designed to protect the investment you just made and the ones you made it for… your family. Once installed, the Coverstar Safety Cover will help prevent accidental intrusions by children, pets and unwanted critters and debris. Coverstar offers mesh covers for maximum drainage and solid covers that block 100% of sunlight in a variety of material weights and colors. All can be custom designed to fit any size or shape pool precisely, including any special features such as raised walls, diving boards, stairs and rails
---
5000M™ Standard Shade Mesh
4.5 oz weight – 15 year warranty
The highest abrasion resistance and tear strength in its class
Allows water through for drainage and safety
Available in green, blue, gray and tan

---
500P™ Lite Duty Solid Vinyl
100% sunblock, 7 oz weight – 12 year warranty
High-end construction and features
Light weight material is easy to handle
Available in green and blue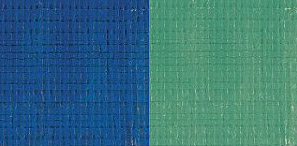 ---
Custom Heavy Duty Hardware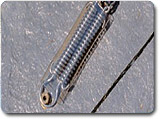 Heavy duty stainless steel single-coil springs, with D-Rings for ease of installation and adjustment. They have a lower profile – so covers lay flat and fit tight — whatever the shape of the pool. Standard on all Solid & Mesh covers
---
A Cover Is Only As Strong As Its Seams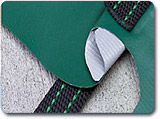 All of our Solid & Mesh safety cover seams are interlocked and double overlapped. This seam is the heart of the safety difference. Place your hands over top of one another – how strong is that? Now hook your fingers together and place someone else's hands above and below your own – this is how our safety cover seams are done.